Designed for high speed internet Page may load slow- ( Thank you, for your patience)
"Real Life Expressions LLC"
Would like to welcome you to a collection of Unique Experiences in Quality Services
Centerpiece-Presentations News CP Network The Centerpiece Marketplace ArkLaTex Business Showcase
Connect with us

Join the pathways to building your success
Join our Business Showcase Services ArkLaTex Business Showcase
Become a member of our Talent Connections Centerpiece-Presentations
Become a Member of Our Network for Professional People CP Network
Participate in our Events through The Centerpiece Marketplace
List Your Musical Group or Individual Musical Talent with TrueStyle-MusicMakers
Enjoy our Site
We bring you " Real Life Expressions "
'"Connect and Entertain Yourself"

While you enjoy our Website

Games & Free Games Have fun stuff

Watch Movies on the Internet

Real Life Expressions

Is the pathway to success in any endeavor - It is our means to achieve our goals, to present our talents, and engage our skill

Expressions and Presentations - is the means for dreams to become reality

Join us

Create Your Connections with The World

Making the future by our effort of today

Real Life Expressions LLC
Visit - Join- Grow and Expand Your Options for Success
Home based in Shreveport, Louisiana
Leading the way in Presentations and Opportunity for Talents- Artistry - Skills - Craft - Professional People - Businesses Creation - Business Growth - Event Vendors and Events Productions
Headquarters of the 21st Century Growth Center
A Collections of Services to Meet with Your Interactive Engagements Within Living
ArkLaTex Business Showcase The Centerpiece Marketplace CP Network TrueStyle-MusicMakers
We Make Equality in Opportunity a Reality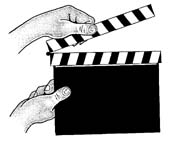 Showcase Yourself as a Centerpiece-Presentations
Explore and Enjoy The World Experiences of The History of Film & Entertainment
Motion Picture, Recorded Sound Division

The Library of Congress began collecting motion pictures in 1893 when Thomas Edison and his brilliant assistant W.K.L. Dickson deposited the Edison Kinetoscopic Records for copyright. However, because of the difficulty of safely storing the flammable nitrate film used at the time, the Library retained only the descriptive material relating to motion pictures. In 1942, recognizing the importance of motion pictures and the need to preserve them as a historical record, the Library began the collection of the films themselves. From 1949 on these included films made for television. Today the Motion Picture, Broadcasting and Recorded Sound Division (MBRS) has responsibility for the acquisition, cataloging and preservation of the motion picture and television collections. The Division operates the Motion Picture and Television Reading Room to provide access and information services to an international community of film and television professionals, archivists, scholars and researchers.

Media Archives

visit archive.org

View nearly 2,000 films from the Prelinger Archives!

Prelinger Archives was founded in 1983 by Rick Prelinger in New York City. Over the next twenty years, it grew into a collection of over 60,000 "ephemeral" (advertising, educational, industrial, and amateur) films. In 2002, the film collection was acquired by the Library of Congress, Motion Picture, Broadcasting and Recorded Sound Division. Prelinger Archives remains in existence, holding approximately 4,000 titles on videotape and a smaller collection of film materials acquired subsequent to the Library of Congress transaction. Its goal remains to collect, preserve, and facilitate access to films of historic significance that haven't been collected elsewhere. Included are films produced by and for many hundreds of important US corporations, nonprofit organizations, trade associations, community and interest groups, and educational institutions

http://www.archive.org/details/prelinger

Movies- Viewing / downloads

Movie Related material

visit :http://emol.org/

Watch and download classic action and adventure movies for free. These films were popular major motion pictures shown in the theaters from the 1900s through the 1960s.

These Free Movies are now

in

the public domain.

More Movies

http://www.publicdomaintorrents.com/

Other Movies Sites

Television and Movies - JohnQ.com
Film Trailers - Humor - Events
( top of page )
| | |
| --- | --- |
| Entertainment Jobs - Websites - For Your Convenience- We will add additional links | |
We are not endorsed by Google nor by MSNBC, we add these for your ease of access to these great sites.. for News and information. they provide up to date Info and News, to the world.

News
A Quick View of the World News

Trade

Name

Trade Mark




Service mark's
Real Life Expressions L.L.C.
Copyright © 2007
in Association with
Centerpiece-Presentations
Centerpiece-Presentations.com / Cp Network / The Centerpiece Marketplace / ArkLaTex Business Showcase / TrueStyle-Music Makers
All are Registered Trade Marks, and Service Mark of Trade Name , Real Life Expressions L.L.C.
P.O. Box 17885 Shreveport, LA 71138-7885
Webmaster@centerpiece-presentations. com
Last modified: July 20, 2009